I'm afraid that this is going to disappoint some of you, as I know there are many other guys out there who mistakenly believe they're going to marry one of these women. Sorry, guys, but I'll be the lucky one.
Warning: Due to the number of images on this page, it'll load kinda slowly. Sorry. Trust me - these women are well worth the wait!

By the way, you are visitor number

, since some time in July 1997, to wonder who I'm going to marry.
---
Kari Byron
I have been a fan of the TV show Mythbusters since I first saw the pilot episodes. Back then, it was just two guys doing fun stuff. And it was a great show. But after the first season, they expanded it by adding more people.
One of the people they added in season two had actually been shown in one of the pilot episodes. They had needed an anatomical model for a derriere, and she provided the derriere. But as we found in season two, there's so much more to her than a nice butt. She's gorgeous. She's sexy (and the tight t-shirts certainly don't hurt in this regard). She's funny. She's a geek sex symbol. She's appeared in FHM doing experiments in a lab coat and bra. And even though redheads aren't usually my thing, red hair fits her (as do the cute ponytails, pigtails, etc. she often wears).
And finally, a few years after she first joined the cast, she's graduated to join the ranks of my Future Wives, as of 25 January 2009.
---
Kirsten Dunst
She's been a celebrity lust object for several years. On March 18, 2000 (I don't keep track of such things, but Windows does), I made her the wallpaper on my home PC. She's been (to me, even if she has second billing) the star of both Spider-man movies. I'll watch any movie she's in, even if it's really stupid (e.g. Dick). I really enjoyed both Spider-Man and Spider-Man 2, but the best thing about either movie was her, by far, no doubt, no question.
I was incredibly happy when she split up with Jake Gyllenhall because it meant, at least theoretically, I have a chance. Hey, I studied computer science at university, so I understand the concept of theory vs. reality. But still, if she split up with her boyfriend, I know I have chance. A chance that's very close to 0, but still non-zero.
Kirsten became a Future Wife on 17 September 2004, the first woman to join this exclusive club since it was first formed.
---
Emma Bunton
She doesn't know it yet. Heck, she doesn't even know I exist yet. But make no mistake about it - she's gonna be mine! Her name is Emma and she's a Spice Girl. So the whole world is going to be jealous when they see our wedding pics in the National Enquirer some Saturday morning when they're waiting in the checkout line! In the song "2 Become 1", when she sings
Come a little bit closer baby
get it on, get it on
'Cause tonight is the night
When two become one
it's me she's imagining. I'm pretty sure that will be our wedding song.

How about Baby Spice haikus?
Darling Baby Spice
Cute blue-eyed blonde love goddess
Will you marry me?

Emma Lee Bunton
You are such a cutie pie
I love you always

Here is a collection of pictures of her. Isn't she adorable? When you've finished admiring the pictures, check out some Spice Haikus.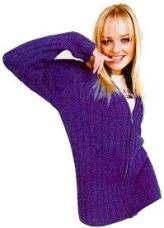 Emma, in a rare picture without her pigtails. Before some wise guy points out that she has no legs, it's called trick photography, OK?
---


An animated picture from the Say You'll Be There video.
---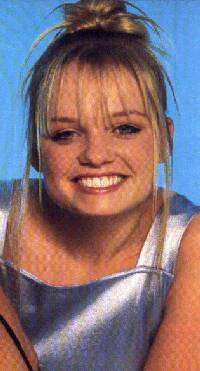 What a charmer!
---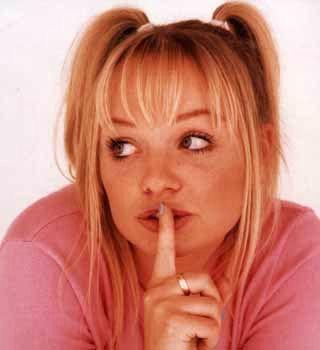 She just melts my heart ...
---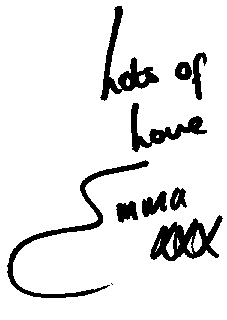 One day she'll be writing me little notes that end like this!
---
Elle Macpherson
This Australian supermodel, known in the business as "The Body", is and has always been the most beautiful woman on the planet. In addition to having a fabulous body, she's also gorgeous. Plus, I think her accent is charming. I dropped by the Fashion Cafe in New Orleans when I was there in '96, hoping she'd be there to accept my marriage proposal, but I couldn't find her. In case you've never seen her (and come on now, how many people, male or female, have never seen Sports Illustrated swimsuit issues or Victoria's Secret catalogs?), just imagine me in a tux standing next to her as she says "I do."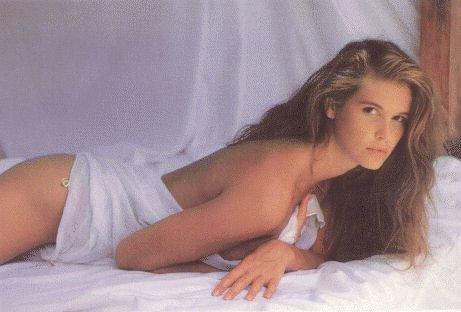 Elle waiting for me to get home from work
---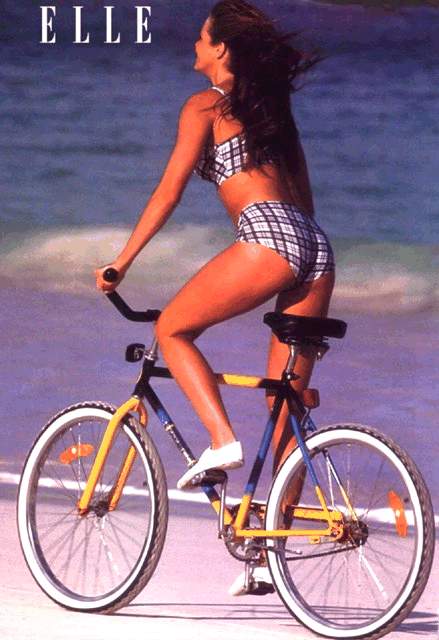 One of the ways she can spend time keeping fit with me
---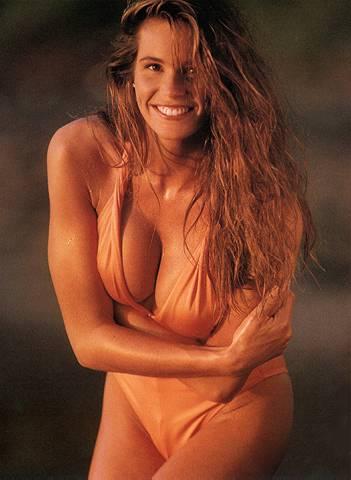 She's a little chilly after taking a swim, and waiting for me to warm her up a bit.
---
Anna Nicole Smith
Anna was a charter member of my future wives' club. Her untimely passing put an end to a tumultuous life that was full of both joy and sadness.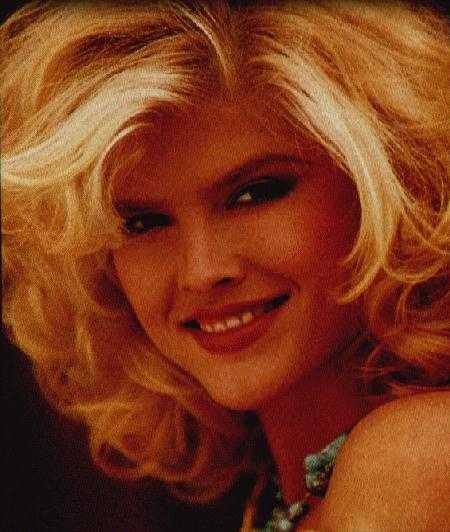 This is the face I wanted to wake up next to every morning!
---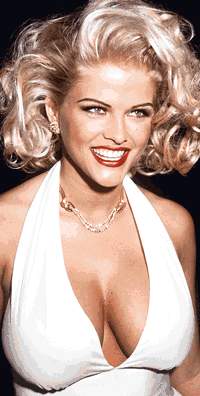 She'd be on my arm everywhere I go. How many of you will show up at your company's Christmas party with a world-famous supermodel for your wife?
---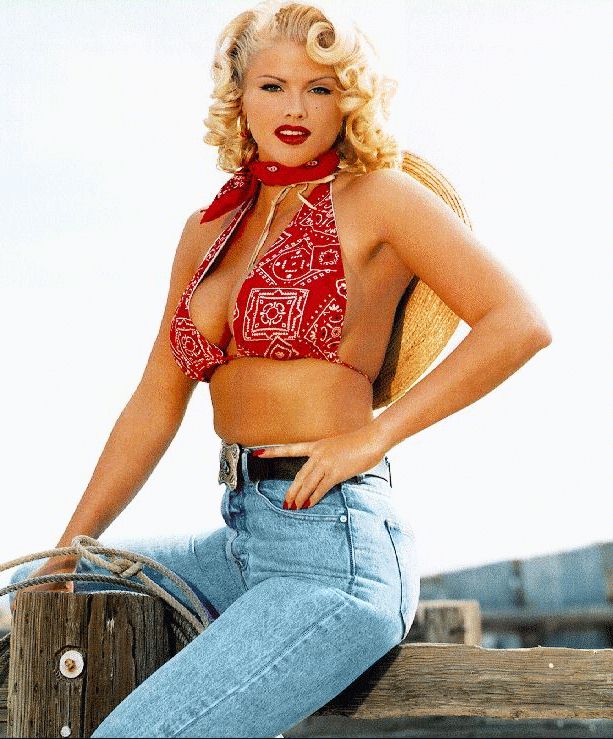 Just hanging around at our country estate.
---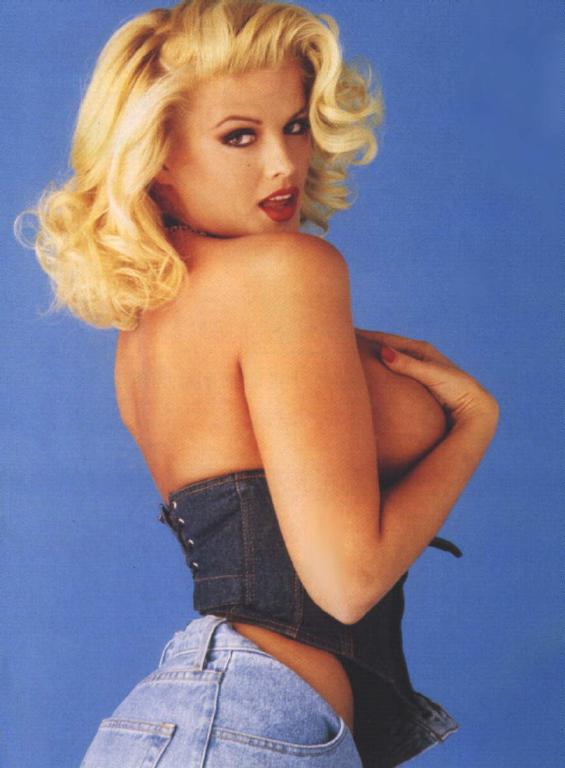 What a teaser!